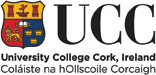 Dr Emma Nic Cárthaigh BA, HDip.ED, MPhil, PhD
Dr Emma Nic Cárthaigh BA, HDip.ED, MPhil, PhD
Emma holds the position of post-doctoral fellow with the De Finibus project. The project's team comprises Dr John Carey and Dr Caitríona Ó Dochartaigh (joint Principal Investigators), Professor Máire Herbert, Dr Kevin Murray and Ms Nicole Volmering (doctoral student), all of the School of Irish Learning. The project's Advisory Board comprises Dr Jason Harris (School of History), Liam P. Ó Murchú (School of Irish Learning) and Professor Pádraig Ó Riain (Professor Emeritus of Early and Medieval Irish).
The external collaborators of the De Finibus project include:
Research Associates: Dr Hugh Fogarty, Dr Elizabeth Boyle, Dr Katja Ritari and Dr Tomás O'Sullivan.
Advisory Board: Prof Remi Gounelle, Prof Anthony Hilhorst, Prof Michael Lapidge, Prof Bernard McGinn, Prof Martin McNamara and Prof Charles D. Wright.