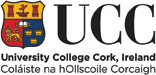 Ms. Eileen Hogan
Contact Details
Title
Lecturer
Address
Applied Social Studies
University College Cork
Ireland

Telephone:
+353 21 4902049
Email:

ei.ccu@nagoh.e
Biography:
Eileen is a lecturer in Social Policy with interests in cultural policy, creativity and the economy, and youth cultures. Eileen holds a B.A. in Music and Gaeilge and a B.Soc.Sc from University College Cork. She has been lecturing in the School of Applied Social Studies since 2002 and her teaching areas include Irish social policy analysis, the politics of racism, gender and sexuality, cultural policy and popular culture.
Eileen is currently undertaking doctoral research with the Institute of Popular Music, University of Liverpool. Her thesis, entitled "'Cork Choons': Popular music, place and identity", is due for completion in 2013 and uses music as a lens through which to interpret issues of social significance, including identity, belongingness, people's relationship to place, ethnicity, cultural policy and politics, and the cultural economy.
Eileen is Co-Ordinator of the Critical Social Thinking Student Research Initiative and a member of the Institute for Social Science in the 21st Century (ISS21) and IASPM. She is also a member of the Board of Directors of Youth Work Ireland Cork.