Barbara Siller
‍
Biography
I earned my MA degree in German and Romance Literature and Linguistics at the Leopold-Franzens-Universität Innsbruck in Austria and spent my Erasmus period at the L' Università dell'Aquila in Italy. 
After several years as an OEK-Lecturer in the Department of German / University College Cork I began my PhD research with Germanic Studies in Trinity College Dublin under the supervision of Prof. Juergen Barkhoff and Dr. Peter Arnds. The PhD study was funded by the Irish Research Council for Humanities and Social Sciences (IRCHSS). I completed my thesis on the topic of Identity (De)Constructions in the Literature from South Tyrol after 1965 in 2011.

After some years of postdoctoral research at the research institute Brenner-Archiv in 2016 I took on the role of Lecturer in German Studies and Director of MA Applied Linguistics in University College Cork.

My primary area of research include topography and fiction, literary multilingualism, 20th and 21st (Austrian) literature, identity discourses, generational novels and the representation of memory, and translation and self-translation.
Literary topographies

In the context of spatial studies space is no longer seen as a part of the background of the narrative, but is understood as moving on to the foreground and becoming an active agent. I am particularly interested in the representation of spatial elements in literature, but also in fictionalised geographical spaces. I am very interested in the theoretical approaches of spatial studies within and beyond literary studies, such as Arts, Architecture, Linguistics, Geography and Politics.
Translation, Self-Translation and Literary Multilingualism

Translational processes and multilingual textual strategies have always been important within literature, but became even more prominent in Contemporary Literature. I am particularly interested in the employment of these strategies, their functions, potential and meaning. 
Contemporary (Austrian) Literature 
Generational Novels and the Representation of Memory
A big number of contemporary novels have a strong focus on narrating memories and telling 'individual (hi)stories' as contrasted with 'the History; frequently they employ the genre of generational/family narratives. Moreover, they engage critically in reflections on memory processes and reveal their complexity, mutability and fragmentation. I am particularly interested in how the texts reflect these memory processes, but also in the nature of this hybrid genre which juxtaposes memory narration and memory reflection. I am also interested in understanding how these texts relate and contribute to the general theories on memory in various disciplines.
Identity discourses
I am particularly interested in how texts/discourses construct/deconstruct identities/alterities and how this reflects the wider historical, political and sociological context. I have carried out extensive research on identity narratives in the literary space of South Tyrol from 1965 to 2011, where I particularly focused on the potential of narratives to unsettle fixed, collective identities.
This research has been published in my monograph 
Identitäten – Imaginationen – Erzählungen. Literaturraum Südtirol seit 1965. 
(= Innsbrucker Beiträge zur Kulturwissenschaft – Germanistische Reihe 82) in 2015. In several articles I studied identity narratives from various perspectives, i.e. subversive processes in ethnocentric discourses, identity as a process of story-telling (as outlined by Paul Ricoeur), the centrality of languages, proverbs, stories in multilingual identity narratives.

Selected publications linked to my research interests:


Georg Grote, Barbara Siller (eds.): Erinnerungskulturen - Gegenwartsreflexionen - Zukunftsvisionen. Universitätsverlag Wagner, Innsbruck 2011. 327 pages.
Cover by Georg Grote.
Reviews  and interviews (also in connection to the organized conference on the same theme):
Luca Sticcoti. Alto Adige, 25.09.2010, Identita' e storia. Lezioni irlandesi. A Dublino convegno sull' Alto Adige. Parla l'organizzatrice Barbara  Siller.
Harriet Murphy. Yearbook of the German Studies Association in Ireland, Volume 8, 2013. 
Barbara Siller: Identitäten - Imaginationen - Erzählungen. Literaturraum Südtirol seit 1965
innsbruck university press 2015. 267 pages.
Cover by artist Dolores Losso: Vier Gesichter. Hey, facciamo l' amore. 
Reviews:
Maria-Regina Kecht Journal of Austrian Studies, Volume 50, Number 1-2, Spring-Summer 2017, pp. 144-147 (Review) Published by University of Nebraska Press
https://muse.jhu.edu/article/688704/pdf
Gert Hofmann, Mitteilungen aus dem Brenner-Archiv, Nr. 6, 2017, pp. 182-185/
https://www.uibk.ac.at/iup/buch_pdfs/brennerarchiv_36_2017.pdf
Chiara Conterno: Costruzioni identitarie nella letteratura del Sudtirolo. Il Cristalle, Rassegna di Varia Umanita',  ANNO LVIII – n. 1 – aprile 2016, 
p. 96-97. 


Ludwig Grasl, Erker, Monatszeitschrift f
ü
r das s
ü
dliche Wipptal, 03.01.2016
http://www.dererker.it/de/news/1864-literaturraum-suedtirol-seit-1965.html
Markus Ender, Ingrid Fuerhapter, Iris Kathan, Ulrich Leitner, Barbara Siller (eds.). Landschaftslektüren. Lesarten des Raums von Tirol bis in die Po-Ebene, transcript publishing house 2017. 600 pages.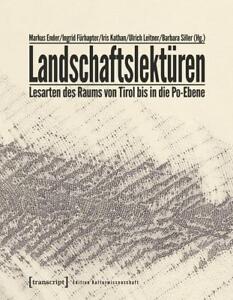 Cover by artist Benjamin Zanon: 
http://www.benjamin-zanon.at/2017/07/13/landschaftslektueren-covergestaltung/
includes work on the theme of border from the artist Katharina Cibulka 
http://www.katharina-cibulka.com/schindeln-2.html
, also presented in the Glucksman Gallery in Cork as part of the OUTPOSTS exhibition: 
http://www.glucksman.org/exhibitions/outposts-global-borders-and-national-boundaries
Reviews: 
Ästhetische Feldarbeit, schlo, Tiroler Tageszeitung, 27.4.2017:
https://www.uibk.ac.at/brenner-archiv/ausstellung/2017/links/landschaftslektuere.pdf
Newsletter des Forschungsinstituts Brenner-Archiv Nr. 09 / April 2017
:
https://www.uibk.ac.at/brenner-archiv/newsletter/09-17/landschaftslektueren.html
Heinrich Schwazer, tageszeitung, 14. 04. 1017.
Barbara Siller, Sandra Vlasta (eds). Literarische
 (Mehr)Sprachreflexionen. Praesens Verlag, Vienna 2020. 384 pages.

‍
Research Interests
Literary Topographies

Literary Multilingualism

Identity/Alterity Discourses
Generational Novels and the Representation of Memory
20th and 21st Century German Literature
Translation and Self-Translation
NEW:
I'm currently working on the book publication of the Cork Poetry Lectures "
Das Un:gehörte, un:gehörig Un:erhörte 
im mehrkulturellen Schreiben
 / 
The un:heard, unsee:mly un:heard-of
writing more cultures" in collaboration with 
Dragica Rajčić Holzner, Kurt Lanthaler und José F. A. Oliver (Kulturverlag Kadmos Berlin).
Research Grants
 
Project
Funding
Body
Start Date
End Date
Award
(De)constructions of Identity in the Literature from South Tyrol after 1965
Irish Research Council
01-SEP-08
01-SEP-11
€54,000.00
Values, Language, Integration.The Construction of Values in the Discourse of Language and Integration in Austria.
Irish Research Council
01-OCT-18
30-SEP-22
€96,000.00
Contemporary Prose in North, South and East Tyrol
Other: Not Listed
01-JAN-13
01-SEP-16
€135,170,000.00
‍
Publications
‍
Books
 
Year
Publication
(2015)
◾Identitäten – Imaginationen – Erzählungen. Literaturraum Südtirol seit 1965.
Barbara Siller (2015) ◾Identitäten – Imaginationen – Erzählungen. Literaturraum Südtirol seit 1965. Innsbruck: Universitaetsverlag. [Details]
‍
Book Chapters
 
Year
Publication
(2020)
'Wie "verwegen lyrisch" "W:orte w:erden". Vom F:ortschreiben der Sprache und dem dialogisch ausgerichteten poetischen Denken in José F. A. Oliver'
Barbara Siller (2020) 'Wie "verwegen lyrisch" "W:orte w:erden". Vom F:ortschreiben der Sprache und dem dialogisch ausgerichteten poetischen Denken in José F. A. Oliver' In: Barbara Siller, Sandra Vlasta (eds). Literarische (Mehr)Sprachreflexionen. Vienna: Praesens Verlag. [Details]
(2020)
'Einleitung / Introduction'
Barbara Siller, Sandra Vlasta (2020) 'Einleitung / Introduction' In: Literarische (Mehr)Sprachreflexionen. Vienna: Praesens Verlag. [Details]
(2018)
'Einleitung / Introduction'
Barbara Siller, Marina Durnin (2018) 'Einleitung / Introduction' In: Gillian Pye and Sabine Struemper-Krobb (eds). Selbstreflexionen / Self-Reflections. Germanistik in Ireland, Yearbook of the German Studies Association of Ireland. Konstanz: Hartung-Gorre Verlag. [Details]
(2018)
'Einführung: Selbstreflexion / Self-Reflexion'
Marina Durnin, Barbara Siller (2018) 'Einführung: Selbstreflexion / Self-Reflexion' In: Gillian Pye, Sabine Strümper-Krobb (eds). Special Issue: Selbstreflexion / Self-Reflection. Germanistik in Ireland. Konstanz: Hartung-Gorre Verlag. [Details]
(2018)
'"Es muss doch Wörter geben, die diese Gegenwart treffen, ganz einfach zu findende Wörter." – Literary modes of counterculture in Thomas Stangl's narrative 'Regeln des Tanzes''
Barbara Siller (2018) '"Es muss doch Wörter geben, die diese Gegenwart treffen, ganz einfach zu findende Wörter." – Literary modes of counterculture in Thomas Stangl's narrative 'Regeln des Tanzes'' In: Friederike Wolfrum, Désirée Kriesch (eds). Cultural Encounters and Transfers (vol. 4). Würzburg: Königshausen & Neumann. [Details]
(2017)
'Verschwiegenes sagbar machen – Erinnerungsmedien und Anhaltspunkte für ein Übersetzen des Schweigens in Anna Rottensteiners Lithops. Lebende Steine, Bernd Schuchters Link und Lerke und Christoph W. Bauers Die zweite Fremde. Zehn jüdische Lebensbilder'
Barbara Siller (2017) 'Verschwiegenes sagbar machen – Erinnerungsmedien und Anhaltspunkte für ein Übersetzen des Schweigens in Anna Rottensteiners Lithops. Lebende Steine, Bernd Schuchters Link und Lerke und Christoph W. Bauers Die zweite Fremde. Zehn jüdische Lebensbilder' In: Aleksandra Bednarowska and Beata Kołodziejczyk Mrόz (eds). Verschwiegenes, Unsagbares, Ungesagtes sagbar machen. Der Topos des Schweigens in der Literatur. Perspektivenwechsel. Band 4. Berlin: Weidler Buchverlag. [Details]
(2017)
'"Ich schäme mich, dass ich meinen Freund so wenig gekannt habe." Die Literarisierung einer Freundschaft in Konrad (Haymon 2012) von Joseph Zoderer und in Der Freund und der Fremde'
Barbara Siller (2017) '"Ich schäme mich, dass ich meinen Freund so wenig gekannt habe." Die Literarisierung einer Freundschaft in Konrad (Haymon 2012) von Joseph Zoderer und in Der Freund und der Fremde' In: Sieglinde Klettenhammer and Erika Wimmer (eds). Joseph Zoderer. Neue Perspektiven auf sein Werk. Innsbruck Wien Bozen: StudienVerlag. [Details]
(2016)
'Mütterlicherseits. Generationenromane und Geschlechter'
Barbara Siller (2016) 'Mütterlicherseits. Generationenromane und Geschlechter' In: Goran Lovrić and Marijana Jeleč (eds). Familie und Identität in der Gegenwartsliteratur. Frankfurt am Main: Peter Lang edition. [Details]
(2016)
'Poesia in due lingue – ricezione monolinguale?'
Binder, Eva / Klettenhammer, Sieglinde / Mertz-Baumgartner, Birgit (eds.) (2016) 'Poesia in due lingue – ricezione monolinguale?' In: Lyrik transkulturell. Würzburg: Königshausen & Neumann (= Saarbrücker Beiträge zur Vergleichenden Literatur- und Kulturwissenschaft). [Details]
(2015)
'"Durch Abenteuer Berg und Tal / ich wollte fahren um nicht zu verliegen"– Die Suche nach einem unverschlüsselten Ort in Anita Pichlers Texte'
Barbara Siller (2015) '"Durch Abenteuer Berg und Tal / ich wollte fahren um nicht zu verliegen"– Die Suche nach einem unverschlüsselten Ort in Anita Pichlers Texte' In: Andrea Corbea-Hoisie, Sigurd Paul Scheichl (eds). Kulturen an 'Peripherien' Mitteleuropas (am Beispiel der Bukowina und Tirols). Konstanz: Hartung-Gorre Verlag. [Details]
(2014)
'Wörter, Sprichwörter und Geschichten als Referenzpunkte für die Ausbildung transkultureller Identitäten'
Barbara Siller (2014) 'Wörter, Sprichwörter und Geschichten als Referenzpunkte für die Ausbildung transkultureller Identitäten' In: Nikolaos Katsaounis/Renate M. Sidiropoulou (eds). Sprachen und Kulturen in (Inter)aktion. Frankfurt am Main: Lang Verlag. [Details]
(2014)
'»Erlöse uns von allem übel, habe er gebetet – und auch vor den bergen« – Der Berg als Dystopia im Literaturraum Südtirol'
Barbara Siller (2014) '»Erlöse uns von allem übel, habe er gebetet – und auch vor den bergen« – Der Berg als Dystopia im Literaturraum Südtirol' In: Johann Georg Lughofer (eds). Das Erschreiben der Berge. Die Alpen in der deutschsprachigen Literatur. Innsbruck: Universitaetsverlag, Germanistische Reihe der Universität Innsbruck. [Details]
(2013)
'Topographie Dorf. Darstellungen dörflicher und kleinstädtischer Räume in ausgewählten Texten aus dem Literaturraum Südtirol'
Barbara Siller (2013) 'Topographie Dorf. Darstellungen dörflicher und kleinstädtischer Räume in ausgewählten Texten aus dem Literaturraum Südtirol' In: Marjan Cescutti, Johann Holzner, Roger Vorderegger (eds). Raum – Region – Kultur. Regionale Kultur- und Literaturgeschichtsschreibung im Kontext aktueller germanisti-scher Diskurse. Innsbruck: Universitätsverlag Innsbruck. [Details]
(2011)
'Die Schweigesprachen – ein wiederkehrender Topos im Literaturraum Südtirol'
Barbara Siller (2011) 'Die Schweigesprachen – ein wiederkehrender Topos im Literaturraum Südtirol' In: Georg Grote, Barbara Siller (eds). "Südtirolismen" - Erinnerungskulturen – Gegenwartsreflexionen – Zukunftsvisionen. Innsbruck: Universitätsverlag Wagner. [Details]
(2011)
'Einleitung/Introduction_Südtirol 2010_ Erinnerungskulturen – Gegenwartsreflexionen – Zukunftsvisionen'
Barbara Siller, Georg Grote (2011) 'Einleitung/Introduction_Südtirol 2010_ Erinnerungskulturen – Gegenwartsreflexionen – Zukunftsvisionen' In: Georg Grote, Barbara Siller (eds). Südtirolismen. Erinnerungskulturen – Gegenwartsreflexionen – Zukunftsvisionen. Innsbruck: Universitätsverlag Wagner. [Details]
(2005)
'Die Vielfalt der Sprache – Sprachvarietäten am Beispiel von Werbetexten im österreichischen Magazin Profil'
Barbara Siller (2005) 'Die Vielfalt der Sprache – Sprachvarietäten am Beispiel von Werbetexten im österreichischen Magazin Profil' In: Andreas, Stuhlmann, Patrick, Studer (eds). Language – Text – Bildung. Essays in Honour of Beate Dreike. Frankfurt am Main: Lang Verlag. [Details]
‍
Edited Books
 
Year
Publication
(2020)
Literarische (Mehr)Sprachreflexionen
Barbara Siller, Sandra Vlasta (Ed.). (2020) Literarische (Mehr)Sprachreflexionen Wien: Praesens Verlag. [Details]
(2018)
Special Issue: Selbstreflexionen / Self-Reflections. Germanistik in Ireland / Yearbook of the German Studies Association of Ireland
Barbara Siller, Marina Durnin (Ed.). (2018) Special Issue: Selbstreflexionen / Self-Reflections. Germanistik in Ireland / Yearbook of the German Studies Association of Ireland Konstanz: Hartung-Gorre Verlag. [Details]
(2017)
Landschaftslektüren. Lesarten des Raums von Tirol bis in die Po-Ebene
Ender, Markus; Fuerhapter, Ingrid; Kathan, Iris; Leitner, Ulrich (Ed.). (2017) Landschaftslektüren. Lesarten des Raums von Tirol bis in die Po-Ebene Bielefeld: transcript. [DOI] [Details]
(2011)
Südtirolismen. Erinnerungskulturen – Gegenwartsreflexionen – Zukunftsvisionen
Barbara Siller / Georg Grote (Ed.). (2011) Südtirolismen. Erinnerungskulturen – Gegenwartsreflexionen – Zukunftsvisionen Innsbruck: Universitätsverlag. [Details]
‍
Peer Reviewed Journals
 
Year
Publication
(2021)
'Introduction: Discursive frameworks within academic research'
Devlin, Anne Marie; Siller, Barbara; Ventura, Sara Lis (2021) 'Introduction: Discursive frameworks within academic research'. Teanga, 12 (12):i-xi   [Full Text] [Details]
(2021)
'Discursive strategies of legitimization: The case of abortion in Ireland in 2018'
O'Donovan, Jennifer; Siller, Barbara (2021) 'Discursive strategies of legitimization: The case of abortion in Ireland in 2018'. Teanga, 12 (12):1-22   [Full Text] [Details]
(2020)
'Contaminated soulscapes and landscapes in maja haderlap's engel des vergessens/angel of oblivion'
Siller B. (2020) 'Contaminated soulscapes and landscapes in maja haderlap's engel des vergessens/angel of oblivion'. New German Critique, 47 (1):197-215 [DOI] [Details]
(2018)
'"I was a child voyager. It was in the slipstream of travel that I discovered the world as it flew past." Spatial and linguistic networks in Ilma Rakusa'
Siller, B (2018) '"I was a child voyager. It was in the slipstream of travel that I discovered the world as it flew past." Spatial and linguistic networks in Ilma Rakusa'. Zeitschrift Fur Interkulturelle Germanistik, 9 :91-104 [Details]
(2010)
'Übersetzung, Dialog, (Sub)version – Aushandlungsprozesse kultureller Bedeutungen in Gerhard Koflers zweisprachiger Lyrik'
Barbara Siller (2010) 'Übersetzung, Dialog, (Sub)version – Aushandlungsprozesse kultureller Bedeutungen in Gerhard Koflers zweisprachiger Lyrik'. Germanistische Mitteilungen, Aussaat/Dissemination: Deutschsprachige Kulturen in fremden Nährböden (72):91-106 [Details]
‍
Conference Publications
 
Year
Publication
(2012)
XII. Internationaler Germanistenkongresses Warschau 2010: Vielheit und Einheit der Germanistik weltweit
Barbara Siller (2012) Auswege aus "eingeklemmten" Identitäten und "verkitschten" Heimatbildern bei N.C. Kaser und Gerhard Kofler . In: Franciszek Grucza, Friederike Eigler, Janusz Golec eds. XII. Internationaler Germanistenkongresses Warschau 2010: Vielheit und Einheit der Germanistik weltweit , pp.147-153 [Details]
(2006)
MEHRSPRACHIGKEIT IN EUROPA : ERFAHRUNGEN, BEDÜRFNISSE, GUTE PRAXIS ; 24.-26.08.2006, BOLZANO/BOZEN ; TAGUNGSBAND = PLURILINGUISMO IN EUROPA = MULTILINGUALISM ACROSS EUROPE
Barbara Siller (2006) The Irish language - its prestige and the attitude of its speakers . In: Andrea Abel ; Mathias Stuflesser ; Magdalena Putz eds. MEHRSPRACHIGKEIT IN EUROPA : ERFAHRUNGEN, BEDÜRFNISSE, GUTE PRAXIS ; 24.-26.08.2006, BOLZANO/BOZEN ; TAGUNGSBAND = PLURILINGUISMO IN EUROPA = MULTILINGUALISM ACROSS EUROPE Bozen, , pp.467-480 [Details]
‍
Published Reports
 
Year
Publication
(2005)
Deutsch unterrichten in der Kulturhauptstadt 2005. Das Lektorat am University College Cork/Irland - ein Erfahrungsbericht.
Barbara Siller (2005) Deutsch unterrichten in der Kulturhauptstadt 2005. Das Lektorat am University College Cork/Irland - ein Erfahrungsbericht. Studienverlag Innsbruck, Theorie und Praxis. Österreichische Beiträge zu Deutsch als Fremdsprache, Innsbruck. [Details]
‍
ANET/COS
 
Year
Publication
(2013)
Poetisches Denken und die Frage nach dem Menschen. Grundzüge einer poetologischen Anthropologie, Marko Pajević.
Barbara Siller (2013) Poetisches Denken und die Frage nach dem Menschen. Grundzüge einer poetologischen Anthropologie, Marko Pajević. London: ANET/COS [Details]
‍
Book Reviews
 
Year
Publication
(2016)
Melancholic Letter to Auschwitz. Studies on Wolfgang Hildesheimer, Jean Amery and W.G. Sebald.
Barbara Siller (2016) Melancholic Letter to Auschwitz. Studies on Wolfgang Hildesheimer, Jean Amery and W.G. Sebald. BERLIN-TIERGARTEN: Book Reviews [Details]
(2016)
Die Suche nach dem Leben und die fehlende Magie in den Erzählungen. Brigitte Knapp 'Aurora'. Erzaehlband.
Barbara Siller (2016) Die Suche nach dem Leben und die fehlende Magie in den Erzählungen. Brigitte Knapp 'Aurora'. Erzaehlband. ForschungsinstitutBrenner-Archiv/Universität Innsbruck: Book Reviews [DOI] [Details]
(2014)
Das Universum der kostbaren Minuten / L' universo dei minuti preziosi. Gerhard Kofler: Band 1 der Trilogie Gedächtnis der Wellen / La memoria delle onde.
Barbara Siller (2014) Das Universum der kostbaren Minuten / L' universo dei minuti preziosi. Gerhard Kofler: Band 1 der Trilogie Gedächtnis der Wellen / La memoria delle onde. ForschungsinstitutBrenner-Archiv/Universität Innsbruck: Book Reviews [DOI] [Details]
(2014)
Simone Gottschlich-Kempf: Identitätsbalance im Roman der Moderne. Rainer Maria Rilke, Hugo von Hofmannsthal, Robert Musil, Max Frisch und Botho Strauβ.
Barbara Siller (2014) Simone Gottschlich-Kempf: Identitätsbalance im Roman der Moderne. Rainer Maria Rilke, Hugo von Hofmannsthal, Robert Musil, Max Frisch und Botho Strauβ. Würzburg: Book Reviews [Details]
(2014)
m Zentrum: die am Rande der Geschichte Stehenden. Abschied von der Serenissima. Roman. Waltraud Mittich.
Barbara Siller (2014) m Zentrum: die am Rande der Geschichte Stehenden. Abschied von der Serenissima. Roman. Waltraud Mittich. Forschungsinstitut Brenner-Archiv/Universität Innsbruck: Book Reviews   [Details]
(2013)
Lithops. Lebende Steine. Roman. Anna Rottensteiner.
Barbara Siller (2013) Lithops. Lebende Steine. Roman. Anna Rottensteiner. ForschungsinstitutBrenner-Archiv/Universität Innsbruck: Book Reviews [DOI] [Details]
(2013)
Ein anderes Ankommen. Bernd Schuchters Roman Link und Lerke.
Barbara Siller (2013) Ein anderes Ankommen. Bernd Schuchters Roman Link und Lerke. ForschungsinstitutBrenner-Archiv/Universität Innsbruc: Book Reviews   [Details]
(2013)
Zur Zeitschrift die horen. Jubiläumsband die horen – eine spannungsvolle Ausgabe zum Thema LiteraturZeitSchriften.
Barbara Siller (2013) Zur Zeitschrift die horen. Jubiläumsband die horen – eine spannungsvolle Ausgabe zum Thema LiteraturZeitSchriften. Forschungsinstitut Brenner-Archiv Innsbruck: Book Reviews   [Details]
(2012)
Mutter der sieben Schmerzen. Anna Maria Leitgeb.
Barbara Siller (2012) Mutter der sieben Schmerzen. Anna Maria Leitgeb. ForschungsinstitutBrenner-Archiv/Universität Innsbruck: Book Reviews [DOI] [Details]
(2012)
Du bist immer auch das Gerede über dich. Annäherung an einen Widerständler, Waltraud Mittich.
Barbara Siller (2012) Du bist immer auch das Gerede über dich. Annäherung an einen Widerständler, Waltraud Mittich. ForschungsinstitutBrenner-Archiv/Universität Innsbruck: Book Reviews [DOI] [Details]
‍
Podcast - Media
 
Year
Publication
(2018)
Culture File: Borders and Ouposts (podcast).
Barbara Siller (2018) Culture File: Borders and Ouposts (podcast). Cork: Podcast - Media   [DOI] [Details]
‍
Electronic Source
 
Year
Publication
(2014)
Nahaufnahme Anita Pichler: "Ich wollte fahren, um nicht zu verliegen".
Barbara Siller (2014) Nahaufnahme Anita Pichler: "Ich wollte fahren, um nicht zu verliegen". Innsbruc: Electronic Source [DOI] [Details]
‍
Professional Activities
‍
Honours and Awards
|   | Year | Title | Awarding Body |
| --- | --- | --- | --- |
| | 2014 | Eduard-Wallnöfer-Jubiläumspreises des Landes Tirol | Eduard-Wallnoefer-association |
| | 2008 | IRCHSS SCHOLARSHIP | Irish Research Council |
‍
Professional Associations
|   | Association | Function | From / To |
| --- | --- | --- | --- |
| | Irish Association of Applied Linguistics | Member | 17-JAN-17 / |
| | German Studies Association in Ireland | member | 17-JAN-17 / |
‍
Conference Contributions
 
Year
Publication
(2021)
Cork Poetry Lectures with Dragica Rajčić Holzner, Kurt Lanthaler und José F. A. Oliver,
Barbara Siller (2021) Das Un:gehörte, un:gehörig Un:erhörte im mehrkulturellen Schreiben The un:heard, unsee:mly un:heard-of writing more cultures. [N/A], Cork Poetry Lectures with Dragica Rajčić Holzner, Kurt Lanthaler und José F. A. Oliver, Cork , 13-APR-21 - 14-OCT-21. [Details]
(2021)
Der Deutsche Wald. Kulturgeschichte, Mythologie, Ökologie National University of Ireland, Galway, 15.-16. Oktober 2021,
Barbara Siller (2021) Der Wald als vielschichtiger und ambivalenter Erfahrungs- und Erinnerungsraum im Roman Engel des Vergessens von Maja Haderlap (2011). [Invited Lectures (Conference)], Der Deutsche Wald. Kulturgeschichte, Mythologie, Ökologie National University of Ireland, Galway, 15.-16. Oktober 2021, Galway , 15-OCT-21 - 16-OCT-21. [Details]
(2021)
XIV. Kongress der Internationalen Vereinigung für Germanistik (IVG): "Wege der Germanistik in transkulturellen Perspektiven",
Barbara Siller (2021) "Romanzo italiano, scritto in tedesco" – Ein mehrsprachlicher Roman in Übersetzung: Das Delta und Il delta von Kurt Lanthaler und Stefano Zangrando. [Invited Lectures (Conference)], XIV. Kongress der Internationalen Vereinigung für Germanistik (IVG): "Wege der Germanistik in transkulturellen Perspektiven", Palermo , 26-JUL-21 - 31-AUG-21. [Details]
(2019)
Remembering Voices Lost, MLA International Symposium,
Barbara Siller (2019) "Es geschehen keine Wunder, aber Zeichen" – Dementia as a creative voice challenging normalised discourses in Arno Geiger's Der alte König in seinem Exil. [Invited Lectures (Conference)], Remembering Voices Lost, MLA International Symposium, Universidade Catolica Portuguesa, Lisbon , 23-JUL-19 - 25-JUL-19. [Details]
(2019)
'Governing (Im-)Mobilities: International Borders, Borderlands, and Bordercities',
Barbara Siller (2019) Kafka Tales of the Twenty-First Century – Doors, Walls and Fences in The Gurugu Pledge (2017) by Juan Tomás Ávila Laurel and Lights in the Distance. Exile and Refuge at the Borders of Europe (2018) by Daniel Trilling. [Invited Lectures (Conference)], 'Governing (Im-)Mobilities: International Borders, Borderlands, and Bordercities', Durham (UK) , 23-MAY-19 - 24-MAY-19. [Details]
(2019)
_Fiction and Remembrance_ Methodological Questions,
Barbara Siller (2019) Going down in history as barbarians: Contemporary memory fiction and its dealing with memories. [Invited Lectures (Workshops)], _Fiction and Remembrance_ Methodological Questions, UCC , 28-MAR-19 - 28-MAR-19. [Details]
(2019)
Linguistic Diversity. Celebrating Difference,
Barbara Siller (2019) Outside the Language Regime: Language Varieties. [Invited Lectures (Conference)], Linguistic Diversity. Celebrating Difference, University College Cork , 12-APR-19 - 12-APR-19. [Details]
(2018)
Violence, Space and the Political,
Barbara Siller (2018) The Back Door to Cherished Europe – Mount Gurugu on the North African Coast. [Invited Lectures (Conference)], Violence, Space and the Political, NUI, Galway , 07-JUN-18 - 09-JUL-18. [Details]
(2018)
Language, Identity and Education in Multilingual Contexts,
Barbara Siller (2018) "I like speaking Japanese, it sounds so cool" – Beliefs about and Attitudes to Languages in an Irish Primary School Context. [Invited Lectures (Conference)], Language, Identity and Education in Multilingual Contexts, Marino Institute of Education, Dublin , 01-FEB-18 - 03-FEB-18. [Details]
(2017)
Unsettling Communities: Minor, Minority and Small Literatures in Europe,
Barbara Siller (2017) 'Bilingual / Multilingual Writing as an Act of Political Resistance and a Commitment to Multilingualism: At the Border between Italy and Austria. [Invited Lectures (Conference)], Unsettling Communities: Minor, Minority and Small Literatures in Europe, Conference at the Institute of Modern Languages Research (IMLR), Senate House, University of London , 23-FEB-17 - 24-FEB-17. [Details]
(2017)
Urban Space and the Body,
Barbara Siller (2017) Railway architecture and the agony of leave-taking: Architecture, Memory and Obsessions in W. G. Sebald's Austerlitz. [Invited Lectures (Conference)], Urban Space and the Body, University College Cork , 09-JUN-17 - 10-JUN-17. [Details]
(2017)
Applied Linguistics in the era of globalisation,
Barbara Siller (2017) Narratives of Bilingual/Multilingual Writers - Can Linguists Learn something from Literature?. [Invited Lectures (Conference)], Applied Linguistics in the era of globalisation, University of Limerick , 18-OCT-17 - 18-OCT-17. [Details]
(2017)
European Thought and Global Inspiration,
Barbara Siller (2017) Utterances, Speech Genres and Heteroglossia.Mikhail M. Bakhtin and the Idea of Dialogism. [Invited Lectures (Conference)], European Thought and Global Inspiration, University College Cork , 16-MAR-17 - 16-MAR-17. [Details]
(2016)
Presentation of the research project 'Contemporary prose in Tyrol',
Barbara Siller, Johann Holzner, Maria Piok (2016) "Ein paar Wörter / lose als leichtes Gepäck". [Invited Oral Presentation], Presentation of the research project 'Contemporary prose in Tyrol', Library, Laas (South Tyrol) , 15-NOV-16 - 15-NOV-16. [Details]
(2016)
Grenzüberschreitungen: Migration und Literatur aus der Perspektive der Literatursoziologie,
Barbara Siller (2016) "Ich war ein Unterwegskind. In der Zugluft des Fahrens entdeckte ich die Welt, und wie sie verweht." – Ilma Rakusas Selbstpositionierung als Ausdruck räumlicher und sprachlicher Entgrenzung. [Invited Lectures (Conference)], Grenzüberschreitungen: Migration und Literatur aus der Perspektive der Literatursoziologie, Vienna , 20-JUN-16 - 21-JUN-16. [Details]
(2016)
Traumascapes in German, Austrian and Portuguese Literature,
Barbara Siller, Ana do Carmo (2016) Literary representations of forced migrations – cross-cultural Portuguese and German memoryscapes; Traumatized spaces and traumatizing spaces in Austrian narratives. [Conference Organising Committee Member], Traumascapes in German, Austrian and Portuguese Literature, University College Cork , 09-JUN-16 - 09-JUN-16. [Details]
(2016)
Shifting Boundaries - Grenzverschiebungen - confini in movimento,
Barbara Siller (2016) Shifting Boundaries through Translation. Taking the example of the province of South Tyrol/Northern Italy. [Conference Organising Committee Member], Shifting Boundaries - Grenzverschiebungen - confini in movimento, University of Bozen/Bolzano , 17-NOV-16 - 18-NOV-16. [Details]
(2015)
Internationale literaturwissenschaftliche Tagung Familie und Identität in der Gegenwartsliteratur,
Barbara Siller (2015) Mütterlicherseits. Generationenromane und Geschlecht. [Invited Lectures (Conference)], Internationale literaturwissenschaftliche Tagung Familie und Identität in der Gegenwartsliteratur, Abteilung für Germanistik, Universität Zadar , 14-MAY-15 - 16-MAY-15. [Details]
(2015)
Internationale Tagung Lyrik transkulturell,
Barbara Siller (2015) Lyrik in zwei Sprachen – monolinguale Rezeption? Selbstübersetzung als literarische Handlungsform am Beispiel Gerhard Kofler. [Invited Lectures (Conference)], Internationale Tagung Lyrik transkulturell, University of Innsbruck , 21-JAN-15 - 24-JAN-15. [Details]
(2015)
ENCLS/REELC 6th Biennial Congress. Dublin City University and National University of Ireland, Galway,
Barbara Siller (2015) "I grew up – in der Bauernfeldgasse" – Longing for and belonging to in Christoph W. Bauer Die zweite Fremde. Zehn jüdische Lebensbilder (2013) and in the performance Alte Heimat/Schnitt/Neue Heimat. Erinnerungstheater directed by Irmgard Bibermann (2011). [Invited Lectures (Conference)], ENCLS/REELC 6th Biennial Congress. Dublin City University and National University of Ireland, Galway, University of Galway , 24-AUG-15 - 28-AUG-15. [Details]
(2015)
Literaturraum Tirol,
Barbara Siller, Iris Kathan (2015) Literaturraum Tirol: Erzählen. Von N.C. Kaser und Johannes Trojer bis zu Norbert Gstrein und Sabine Gruber. [Invited Lectures (Conference)], Literaturraum Tirol, Fakultät für Bildungswissenschaften in Brixen (Freie Universität Bozen) , 10-MAY-15 - 10-MAY-15. [Details]
(2015)
Grenzräume – Raumgrenzen: Ländliche Lebenswelten aus kulturwissenschaftlicher Sicht,
Barbara Siller, Iris Kathan, Ingrid Fürhapter, Markus Ender (2015) Panel: Literarische (Re-) Figurationen der Provinz: Repräsentationen kultureller Identitäten im Grenzraum Tirol. Der Raum - ein Richtsaal. Die dem Ort eingeschriebenen Erinnerungen in Gerold Foidls 'Der Richtsaal'. [Invited Lectures (Conference)], Grenzräume – Raumgrenzen: Ländliche Lebenswelten aus kulturwissenschaftlicher Sicht, University of Innsbruck , 16-APR-15 - 18-APR-15. [Details]
(2015)
Internationales Joseph-Zoderer-Symposion,
Barbara Siller (2015) "Ich schäme mich, dass ich meinen Freund so wenig gekannt habe." Die Literarisierung einer Freundschaft in Konrad (Haymon 2012) von Joseph Zoderer und in Der Freund und der Fremde (Kiepenheuer & Witsch 2005) von Uwe Timm. [Invited Lectures (Conference)], Internationales Joseph-Zoderer-Symposion, Forschungsinstitut Brenner-Archiv, Universität Innsbruck , 23-NOV-15 - 25-NOV-15. [Details]
(2014)
'Es geht uns gut'. Recent Trends in (Re-)Writing the Past in Austrian Literature since 2000,
Barbara Siller (2014) Contaminated Land- and Soulscapes in Maja Haderlap's Generational Novel Engel des Vergessens. [Invited Lectures (Conference)], 'Es geht uns gut'. Recent Trends in (Re-)Writing the Past in Austrian Literature since 2000, Ingeborg Bachmann Center for Austrian Literature, London , 27-OCT-14 - 27-OCT-14. [Details]
(2014)
Seminario Internazionale sul Romanzo. 2013-2014. Un certo sguardo sul Novecento. Scrivere tra i mondi italiano e tedesco,
Barbara Siller, Kurt Lanthaler, Stefano Zangrando (2014) (Literarische) Einsprachigkeit als Randphänomen? Zu Kurt Lanthalers Roman Das Delta. [Invited Lectures (Conference)], Seminario Internazionale sul Romanzo. 2013-2014. Un certo sguardo sul Novecento. Scrivere tra i mondi italiano e tedesco, Università degli Studi di Trento , 06-MAY-14 - 06-MAY-14. [Details]
(2014)
Cultural Encounters-Cultural Conflicts: Mightier than the Sword? The Countercultural Agency of Literary Fiction,
Barbara Siller (2014) Es muss doch Wörter geben, die diese Gegenwart treffen, ganz einfach zu findende Wörter. - Literary Modes of Counterculture in Thomas Stangl's Narrative Regeln des Tanzes. [Invited Lectures (Conference)], Cultural Encounters-Cultural Conflicts: Mightier than the Sword? The Countercultural Agency of Literary Fiction, University of Innsbruck , 06-JUN-14 - 07-JUN-14. [Details]
(2013)
Anita Pichler,
Barbara Siller, Erika Wimmer (2013) Nahaufnahme. 'Ich wollte fahren, um nicht zu verliegen.'. [Invited Lectures (Conference)], Anita Pichler, Forschungsinstitut Brenner-Archiv, Universität Innsbruck , 10-OCT-13 - 10-OCT-13. [Details]
(2013)
Displacements. Forced Migration and the Arts,
Barbara Siller (2013) Strategies of locating and narrating oneself in 'I am still in Vienna. Letters to my mother and my father in Turkey' by Mehmet Emir. [Invited Lectures (Conference)], Displacements. Forced Migration and the Arts, Department of Aesthetics and Communication – Comparative Literature. Aarhus University, Denmark , 03-OCT-13 - 05-OCT-13. [Details]
(2013)
"Über das Schweigen": Das Verschwiegene – das Ungesagte – das Unsagbare,
Barbara Siller (2013) Verschwiegenes sagbar machen – Erinnerungsmedien und Anhaltspunkte für ein Übersetzen des Schweigens in Anna Rottensteiners 'Lithops. Lebende Steine', Bernd Schuchters 'Link und Lerke' und Christoph W. Bauers 'Die zweite Fremde'. [Invited Lectures (Conference)], "Über das Schweigen": Das Verschwiegene – das Ungesagte – das Unsagbare, 2. interdisziplinäre Tagung des Neophilologischen Instituts, Fachbereich Germanistik, Pädagogische Universität, Kraków , 26-SEP-13 - 29-SEP-13. [Details]
(2013)
Disputed borders: Italian Texts of and about the Autonomous Northern Regions: Südtirol/Alto Adige and Valle D'Aosta,
Barbara Siller (2013) Oneself and the Other in Joseph Zoderer's Novels 'L'italiana' and 'Il dolore di cambiare pelle.' A Kristevan reading. [Invited Lectures (Conference)], Disputed borders: Italian Texts of and about the Autonomous Northern Regions: Südtirol/Alto Adige and Valle D'Aosta, American association of Teachers of Italian (AATI) –conference in Strasbourg , 30-MAY-13 - 04-JUN-13. [Details]
(2012)
Regionale Kultur- und Literaturgeschichtsschreibung im Kontext aktueller germanistischer Diskurse,
Barbara Siller (2012) Topographie Dorf: Darstellungen dörflicher und kleinstädtischer Räume in ausgewählten Texten aus dem Literaturraum Südtirol. [Invited Lectures (Conference)], Regionale Kultur- und Literaturgeschichtsschreibung im Kontext aktueller germanistischer Diskurse, Brenner-Archiv/Universität Innsbruck; Schloss Goldrain, South Tyrol , 21-JUN-12 - 23-JUN-12. [Details]
(2011)
Sprachen und Kulturen in (Inter)aktion,
Barbara Siller (2011) Sprichwörter, Geschichten, Übersetzungen – die Sprachen als Referenzpunkte für die Ausbildung transkultureller Identitäten. [Invited Lectures (Conference)], Sprachen und Kulturen in (Inter)aktion, Institut für Germanistik, Universität Thessaloniki , 25-MAY-11 - 28-MAY-11. [Details]
(2010)
Imagology,
Barbara Siller (2010) The (Il)logic of Identity Discourse. [Invited Lectures (Conference)], Imagology, Trinity College Dublin (organized by Clemens Ruthner) , 05-OCT-10 - 05-OCT-10. [Details]
(2010)
_Internationale Vereinigung Germanistik: Post/Nationale Vorstellungen von 'Heimat' in deutschen, europaeischen und globalen Kontexten,
Barbara Siller (2010) Auswege aus 'eingeklemmten' Identitäten und 'verkitschten' Heimatbildern bei N.C. Kaser und Gerhard Kofler. [Invited Lectures (Conference)], _Internationale Vereinigung Germanistik: Post/Nationale Vorstellungen von 'Heimat' in deutschen, europaeischen und globalen Kontexten, University of Warsaw , 09-AUG-10 - 16-AUG-10. [Details]
(2010)
Gender and Identity in Comparative Literature,
Barbara Siller (2010) Identity as a process of story-telling – Kurt Lanthaler 'Das Delta'. [Invited Lectures (Conference)], Gender and Identity in Comparative Literature, Comparative Literature Association of Ireland, Third Annual Postgraduate Symposium: University of Limerick , 26-NOV-10 - 27-NOV-10. [Details]
(2010)
Südtirolismen? Identities and Histories in/around South Tyrol/Alto Adige,
Barbara Siller (2010) Die Schweigesprachen – ein rekurrierender Topos im Südtiroler Literaturraum. [Invited Lectures (Conference)], Südtirolismen? Identities and Histories in/around South Tyrol/Alto Adige, University College Dublin , 02-OCT-10 - 03-OCT-10. [Details]
(2010)
MALCA-Conference (Modern Austrian Literature and Culture Association): Negotations of cultural, ethnic, religious and gender identities in modern Austrian Literature and Culture,
Barbara Siller (2010) Fremdkörper von auβen wurden erfolgreich abgewehrt' – Identitätsmodelle am Beispiel des Regional- und Literaturraumes Südtirols. [Invited Lectures (Conference)], MALCA-Conference (Modern Austrian Literature and Culture Association): Negotations of cultural, ethnic, religious and gender identities in modern Austrian Literature and Culture, University of Vienna , 22-MAY-10 - 25-MAY-10. [Details]
(2009)
6th International Post-Graduate Conference on current research in Austrian literature,
Barbara Siller (2009) Gerhard Kofler. Translation as Subversion of Ethnocentric Identities. [Invited Lectures (Conference)], 6th International Post-Graduate Conference on current research in Austrian literature, Ingeborg Bachmann Centre/Institute of Germanic & Romance Studies/University of London , 05-JUN-09 - 06-JUN-09. [Details]
(2009)
IAPL-Conference (International Association for Philosophy and Literature,
Barbara Siller (2009) Tyranny, Power, Roots of Place – Rhizomes as a way out of the category 'regional narrative'?. [Invited Lectures (Conference)], IAPL-Conference (International Association for Philosophy and Literature, Brunel University, London , 01-JUN-09 - 07-JUN-09. [Details]
(2008)
Comparative Literature Association of Ireland Conference,
Barbara Siller (2008) Explaining the Other to Myself: Identities in Post-war German and Italian Literature from the South Tyrol. [Invited Lectures (Conference)], Comparative Literature Association of Ireland Conference, Dublin City University , 07-NOV-08 - 10-NOV-08. [Details]
(2006)
Conference Multilingualism in Europe,
Barbara Siller (2006) The Irish language – its prestige and the attitude of its speakers. [Invited Lectures (Conference)], Conference Multilingualism in Europe, Eurac Bolzano/Bozen , 05-AUG-06 - 09-AUG-06. [Details]
‍
Committees
|   | Committee | Function | From / To |
| --- | --- | --- | --- |
| | College Graduate Studies Committee | Representative for the School of Languages, Literatures and Cultures | 2018 / |
| | Board of the MA Applied Linguistics | Chair | 2016 / |
‍
Employment
|   | Employer | Position | From / To |
| --- | --- | --- | --- |
| | University College Cork | OeAD-Lecturer | 01-SEP-03 / 30-JUN-07 |
| | Research Institute Brenner-Archiv Innsbruck | Researcher | 01-JAN-14 / 31-DEC-15 |
‍
Languages
|   | Language | Reading | Writing | Speaking |
| --- | --- | --- | --- | --- |
| | German | Fluent | Fluent | Fluent |
| | Italian | Fluent | Fluent | Fluent |
| | English | Fluent | Fluent | Fluent |
| | French | Functional | Functional | Functional |
| | Spanish | Functional | Functional | Functional |
| | Irish | Basic | Basic | Basic |
‍
Consultancy
|   | Client | Description |
| --- | --- | --- |
| | Forum Alpbach | Member of Jury for the European Region's Young Researcher Award. |
‍
Outreach Activities
|   | Description |
| --- | --- |
| | 2017, 2018 and 2018 |
| | Event on Multilingual Ireland: Languages, Identities and Cultural Exchange |
| | in cooperation with Cork Educate Together School |
| | Guest lecture: MA Applied Linguistics. University College Cork, January 2010 |
| | Guest lecture: MA Applied Linguistics. University College Cork, März 2009 |
| | In conversation about the artist's work and the politics and history of South Tyrol, May 2017 |
| | 05/2019 |
| | Co-organisation (together with Angelo Pagliardini and Sieglinde Klettenhammer) of the second bilingual poetry edition of Gerhard Kofler: Trilogie der Situation an Orten/Trilogia di situazioni sui luoghi. University of Innsbruck (May 2015): Kurzbeitrag Der vielstimmige Dichter Gerhard Kofler |
| | Launch of three volumes on Ladin literature (Forschungsinstitut Brenner-Archiv, Innsbruck 2015) |
| | In University College Cork, Trinity College Dublin and in the Literaturhaus am Inn/ Innsbruck: Ludwig Laher, Anna Mitgutsch, Alois Hotschnig, Kurt Lanthaler,Thomas Stangl, Waltraud Mittich, Stefano Zangrando, Ilma Rakusa, Anne Marie Pircher and Anna Rottensteiner. |
| | Statement: 'Das Haus als narratives Strukturelement und Lesung bei der Buchvorstellung', (December 2014) |
| | 2005 On the Cork Film Festival's 50th anniversary 2006 German Students Year Abroad 2016 MA Applied Linguistics in UCC |
| | Several Events on Multilingualism for the wider community in 2017 and 2018 (including presentations on SLA and Speech Therapy, discussion forums on Multilingualism) |
| | Participation in a roundtable: II. Fachtagung der Konrad-Adenauer-Stiftung für europäische Germanisten. Berlin, September 2009 |
‍
Journal Activities
|   | Journal | Role | To / From |
| --- | --- | --- | --- |
| | Palgrave Macmillan Publishing | Referee | 01-MAY-18 - |
‍
Other Activities
|   | Description |
| --- | --- |
| | |
| | Internal PhD examiner: October 2016: PhD candidate Mandy Collins, supervisor Prof. Manfred Schewe, external Prof. Mike Fleming, University of Durham. |
‍
Teaching Activities
‍
Teaching Interests
Literary Topographies

Literary Multilingualism

Critical Discourse Analysis

Identity/Alterity Discourses
Generational Novels and the Representation of Memory
20th and 21st Century German Literature
Translation and Self-TranslationSociolinguistics (Language and Power, Language and Gender, Language Politics, Minority Languages, Multilingualism and Language Attitudes)