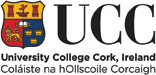 Mr James G R Cronin
James is committed to integrative teaching and learning and has participated in collaborative research projects with colleagues from Ionad Bairre: Centre for Teaching and Learning, University College Cork (UCC); Graduate School, College of Arts, Celtic Studies and Social Sciences (UCC) and National Academy for Integration of Teaching, Learning, Research (NAIRTL). He is currently a member of ISS21 Educating for the Professions and Teaching and Learning Support Team (UCC).
Irish national association for adult education (AONTAS);

Digital Resources for the Humanities and the Arts (DRHA), UK;

JISC Digital Media, UK;

TEI Special Interest Group (Education);

Prof. Susan Broadhurst (Brunel University, London);

Mr. Grant Young (University of Cambridge);

Dr. Julianne Nyhan (University of London and Universität Trier);

Dr. Ros Ollin (University of Huddersfield);

Prof. Adam Jaworski (University of Cardiff).